E´DYN is the absolute winner of e-Regatta, Venezia 2021 E´DYN (a brand of the Podkrižnik group) has been presented at the »Salone Nautica Venezia« trade fair, which took place in Venice from 29th May to 6th June, where we were presented both onshore and water. You were able to look at a new series of e´dyn´s portable, under the trade mark Free Time and out leading e´dyn-1120, which will also receive a large brother 2040 plus 20-25 kw power this year. If necessary, the Hydro Impulse system, which increases the power by 20%, can improve the efficiency, increase the range and reduce the battery consumption.
You could also test four vessels in the water with e´dyn drives and see for yourself our quality and reliability.
ABSOLUTE WIN FOR E´DYN AT E-REGATTA VENEZIA 2021
E'dyn additionally took part in the competition at the renowned Venetian "e-regatte", where we participated in a three-day competition of boats equipped with electric drives. The competition covers all the important elements of sailing, from slalom, agility, energy consumption, endurance, range and reaching top speed. The E'dyn 5.2 with 1120 drive achieved an absolute victory, which is one of the major successes in the field of vessel electrification on a global scale.
Together with the e-concept company; http://e-concept.it/en/products/ we have introduced ourselves as providers of electrification in Venice, where there are currently over 50,000 vessels that will have to become ecologically clean in the future.

SHORT STORY ABOUT E´DYN
The E'dyn brand was founded by Podkrižnik. Podkrižnik is a family business that has been developing, manufacturing and marketing intelligent propulsion systems for various fields for several decades, including the brand "E'dyn", short for electro-dynamic nautical propulsion systems, produced in the area between green forests, clear rivers and stunning mountain peaks in the Upper Savinja Valley.
E'dyn creates innovative technical solutions for electric drives in the field of nautical. Through constant innovation and analysis, it provides state-of-the-art complete drive system solutions and manufactures end products under its own brand, distinguished by their reliability, quality, strength, durability and superior appearance.
To achieve this, all E'dyn products are developed with a lot of technical experience and tested in very well-equipped laboratories, which allow us to update and upgrade our final products. As a result, we can develop new products faster and better. We also take our social responsibility seriously and focus on reducing our carbon footprint and using recycled materials.
In cooperation with boat manufacturers, we are always looking for new optimal solutions that will make your boat truly yours.
SALONE NAUTICO VENEZIA
After the success of the first performance in 2019, the Venice boat show was held for the second time from 29th May to 6th June 2021.
The 9-day event was open every day from 10.00am to 20.00pm.
Visitors were able to admire more than 220 boats, exhibited by more than 160 exhibitors, they were also able to see the spectacular structures of the city's Arsenal – a symbol of the military power and authority of the Venetian Republic and the heart of its shipbuilding industry, which has made it one of the greatest naval powers for centuries. This exciting historic setting in the heart of Venice comprises a 50,000 m2 water pool, more than 1,000 linear meters of pontoons for about 150 water boats, 30,000 m2 of outdoor exhibition space and 5,000 m2 of indoor pavilions in collaboration with the Italian Navy.

E-REGATA VENEZIA
With e'dyn electric drives, we achieved great success at the e-regatta Venzia 2021.
We achieved an overall victory in a 3-day electric boat competition.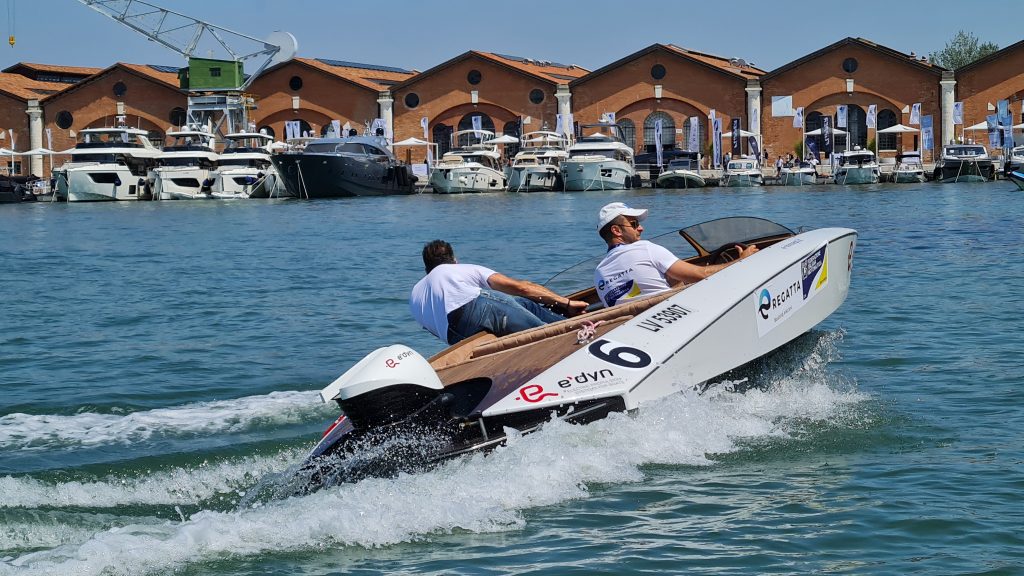 WINNING RESULTS
An absolute reward
1st PLACE: e'dyn 1120
2st PLACE: Anvera e-laboratij
3st PLACE: Madonna della Madia II, Laburna
AWARDS BY CATEGORY
Engine categories
Solar energy: 1 airbag – Electricat 600
Hybrid: 1 motorboat ship Casanova – San Pietro di Castello
Slalom: 1 e'dyn 1120 – e'dyn; 2 Madonna della Madia II – Kot Labruna; 3 Bellmarine – Transfluid
e-dancer: 1 e'dyn 1120 – e'dyn; 2 Madonna della Madia II – Kot Labruna; 3 E-laboratory Anvera – Anvera
Sprint: 1 e-laboratory Anvera – Anvera; 2 Serene – yacht Vita; 3 Ernesto Riva – Ernesto
Endurance: 1 Anvera e-lab – Anvera; 2 Ernesto – Ernesto Riva Shipyard; 3 e'dyn 1120 – e'dyn
The award ceremony was attended by the Deputy Mayor for Sports of the Municipality of Venice, Andrea Tomaello and the Chief Operating Officer of Vela Fabrizio D'Oria. The award ceremony for the first e-regatta in Venice was held on Friday 04.06.2021.
The international event was created on the idea of Kevin Desmond. The purpose of the event is to promote electric navigation in various areas. The event now takes place every year.