For the ninth time in a row, the traditional Monaco Energy Boat Challenge took place in Monaco between 4th – 9th July, a large meeting in the field of alternative energy sources in the nautical industry. A crowd of professionals, exhibitors and young promising engineers presented, demonstrated and tested the latest innovations to an audience of experts and visitors to the fair.
The event was organized by the Yacht Club de Monaco in cooperation with the Monaco Foundation of Prince Albert II. and with support from Credit Suisse, BMW, SBM Offshore and Oceanco Shipyard. The event attracted 38 teams, 27 universities, 21 countries and 36 exhibitors. More than 50 boats were on the water this year, which is the highest participation figure since 2014, when it all started. In Monaco, the self-proclaimed capital of advanced sailing, 3 days of full action and sea adventures, interesting open conversations (Tech Talks) and a full-day conference all focused on progressing greener technologies to power boats.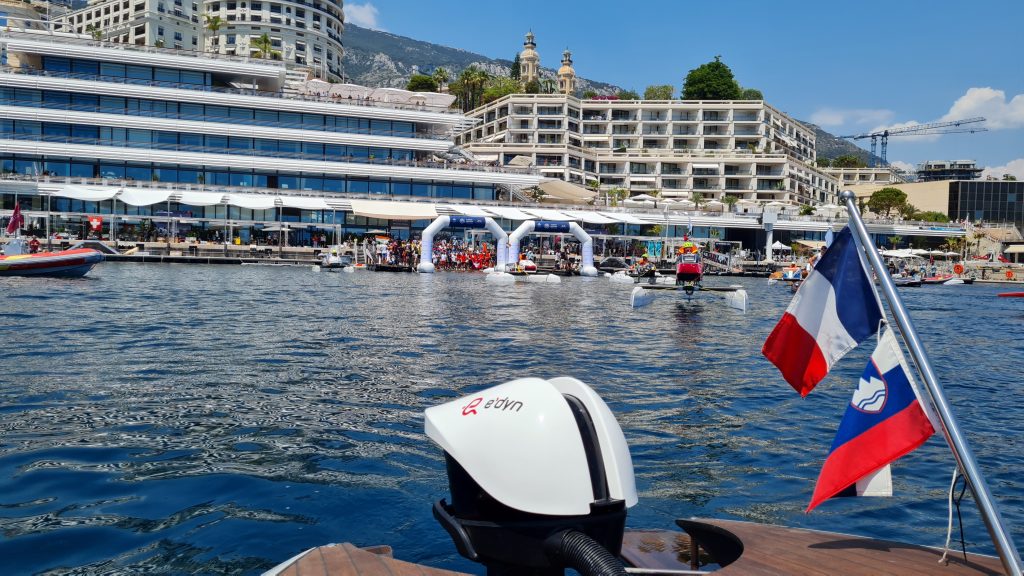 e'dyn again in Monaco
Conference entitled Energy Transition in Yachting: Opportunities and Limits. Some 20 speakers are lined up to discuss topics such as progress on alternative renewable energy margins, carbon-free energy production onboard and challenges and solutions yachting can provide in terms of infrastructure, facilities and construction. Talks by experts on solar and wind power, hydro-generation, batteries, electric engines and hydrogen will the set the scene for some lively discussions.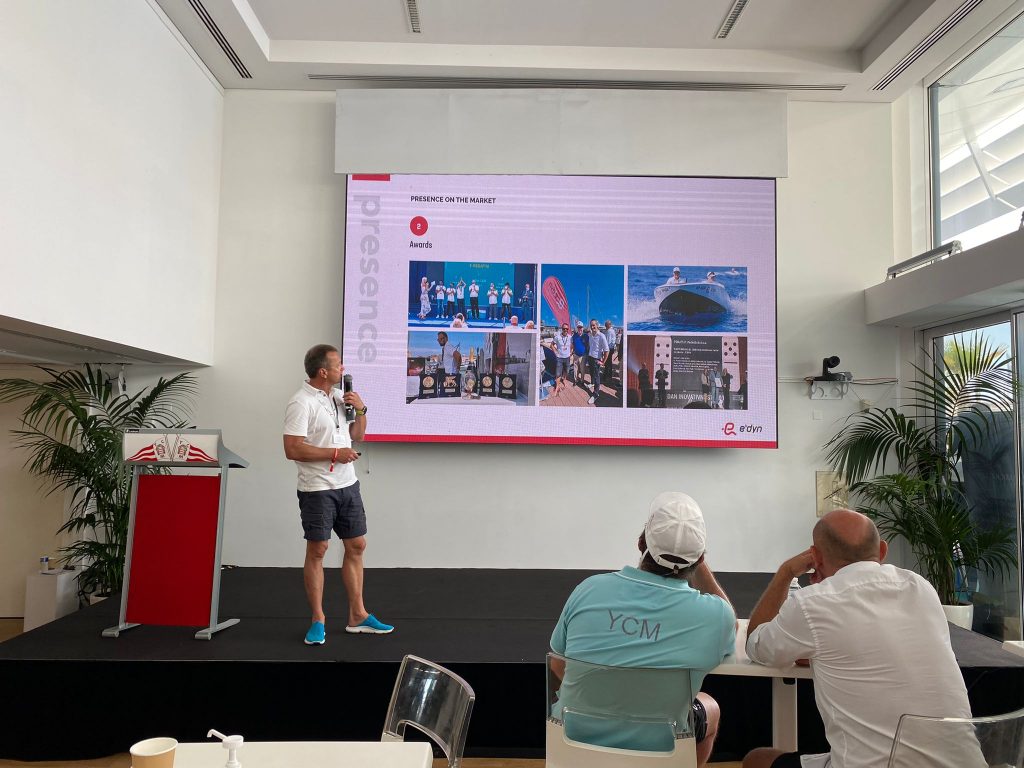 e'dyn also represent yourself
On the penultimate day, the Monaco Hydrogen Working Group Round Table took place for the third time in a row, which can only be attended by invited guests. The main topic was Unlocking hydrogen barriers in the maritime sector: port regulations and economic viability of projects. Organised in partnership with Monaco's Energy Transition Mission, Prince Albert II of Monaco Foundation and Yacht Club de Monaco, this gathering of industry players sets the tone for an event eager to hear about the latest developments. These are the players paving the way for an energy source that has already become a key component of green solutions in propulsion. It's not just about the current situation but also finance for projects that depend on it and what regulations need to be implemented.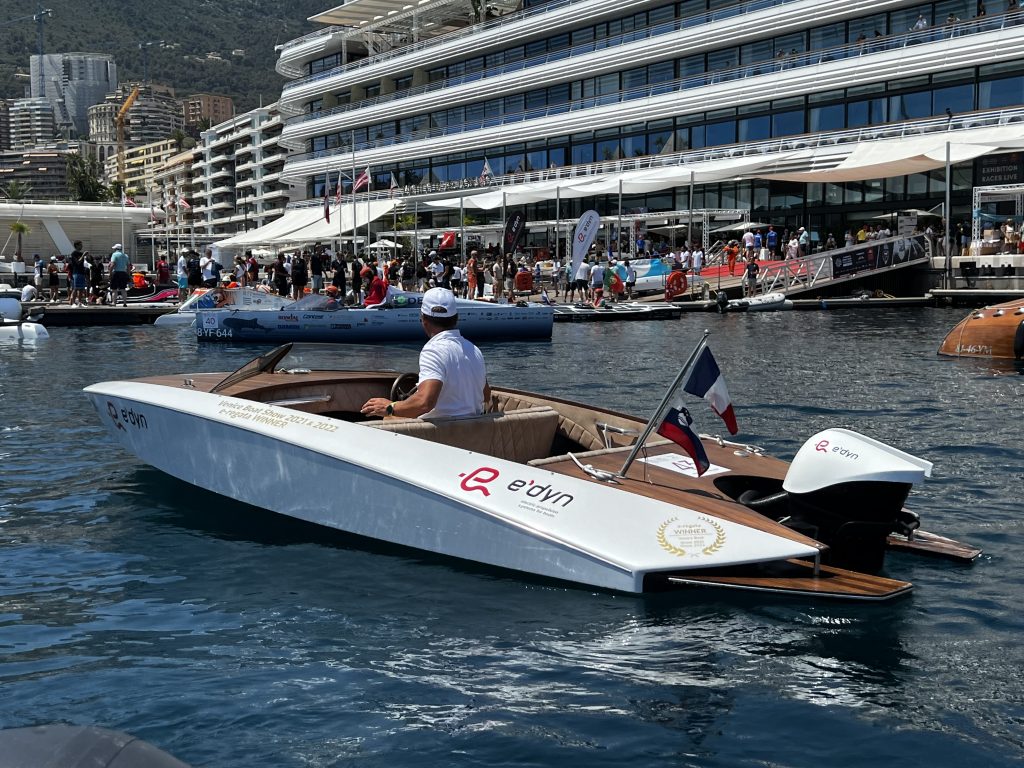 Kaiser, one of the e'dyn's model boats
After the traditional parade in which all boats participate, the exhibitors competed in the qualifiers for the following day's competition: the Championship Race. The Open Sea Challenge took place in three categories: Solar Class, Energy Class and Open Sea Class.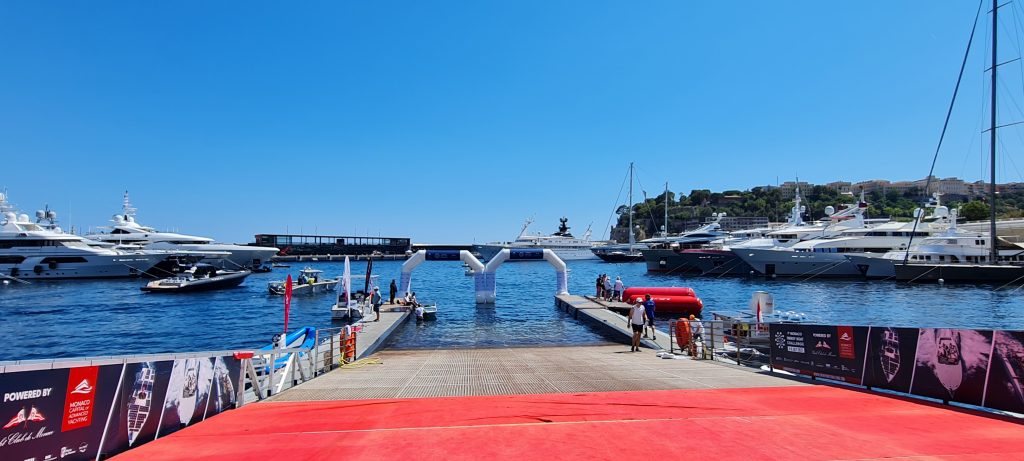 Atractive start
In addition to numerous activities, Solar Class includes pair competitions, slalom and fleet races, where the main goal is to test the extreme limits of what is possible. This category has been held annually at the event since its inception in 2014. There were 14 teams competing in the Solar Class category. The Dutch won, monopolising the endurance competition with the Solat Boat Team winning first place, followed by Dutch Solar Boat Twente and Van Hall Larenstein in third place.
Energy Class, introduced in 2018, is a challenge for young engineers. YCM supplies each team with the same catamaran design, for which they must, in collaboration with industrial partners, design a cockpit and the most durable and efficient propulsion system with zero emissions and an energy source of their choice. Many advanced ideas have already emerged during these years of competition, from fuel cells for heat recovery to improve efficiency, to artificial intelligence. Each year the technical regulations are evaluated and prepared in such a way as to encourage teams to think carefully and innovate even further. This year's rule upgrade was an increase in the permitted energy on board to 10kWh. 14 teams competed in the Energy Class. The Italians with Uniboat celebrated their victory, followed by Dubai's Sailing Tigers and then the French with Capgemini Engineering.
The Open Sea Class is primarily intended for exhibitors at the Monaco Yacht Club Marina to show the full potential of their boat. In this category, competitors could compete in three different groups: Race, Endurance and Manoeuvrability.
The Race category features a 29.6 km race along the coast of Monaco to Ventimiglia in Italy. This year's race winners are the English with Vita Lion, followed by Vita Seal and then Xshore.
The endurance test is designed to emphasize the autonomy of the boats and is a real test for boats with 100% electric propulsion.
The maneuvering competition in the marina is an exceptional opportunity to present new propulsion systems to the public.
Undoubtedly, e'dyn used this opportunity and reaped his moment of triumph, as he once again celebrated the victory in his category with an advantage of almost 2 minutes. The light and nimble e'dyn motor, with its excellent power delivery from low to high revs, won a new medal again. In maneuvering, he competed against teams from the Netherlands, Sweden, Great Britain, Italy and Monaco.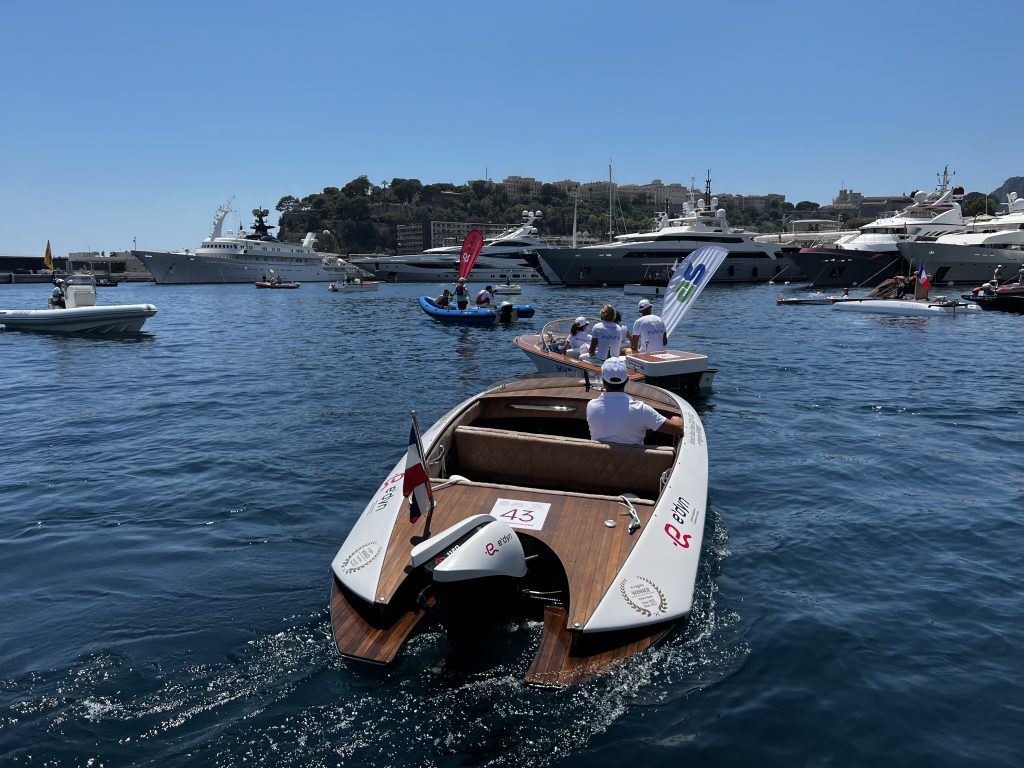 e'dyn with start number 43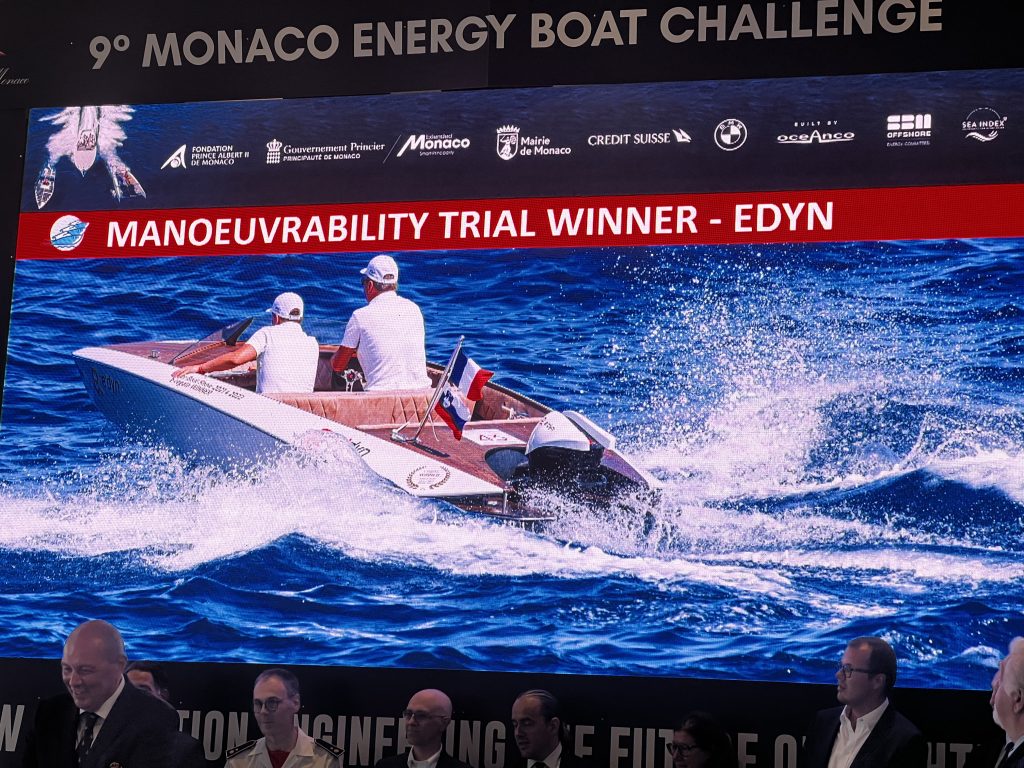 e'dyn the winner of the category

the results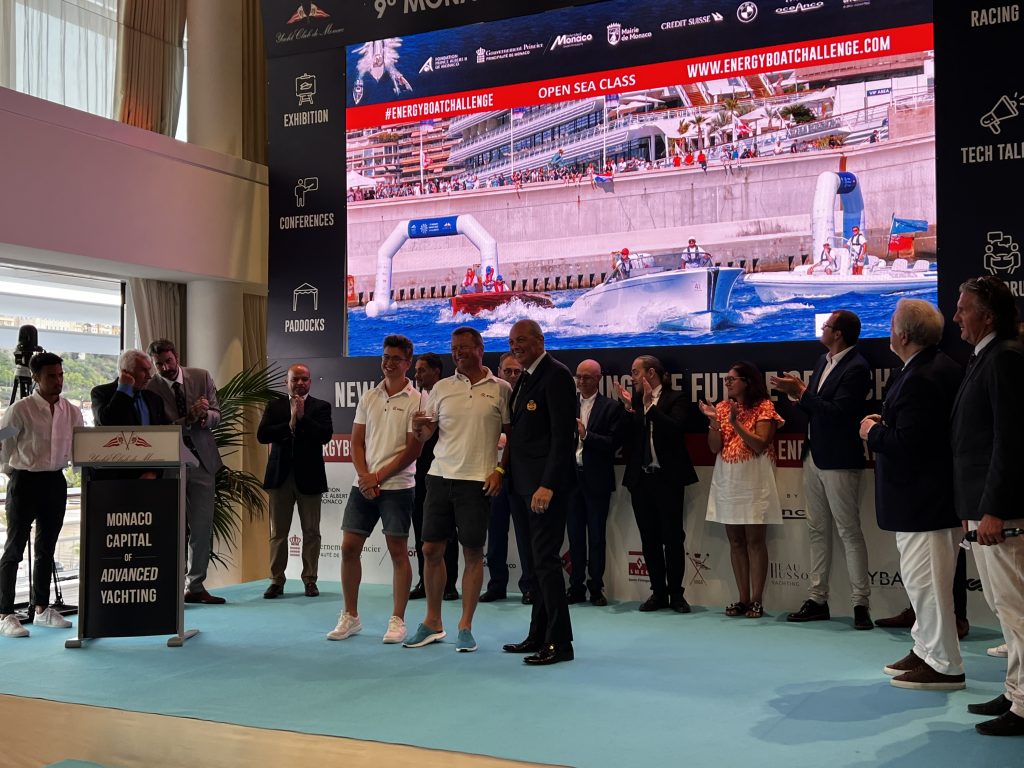 awarding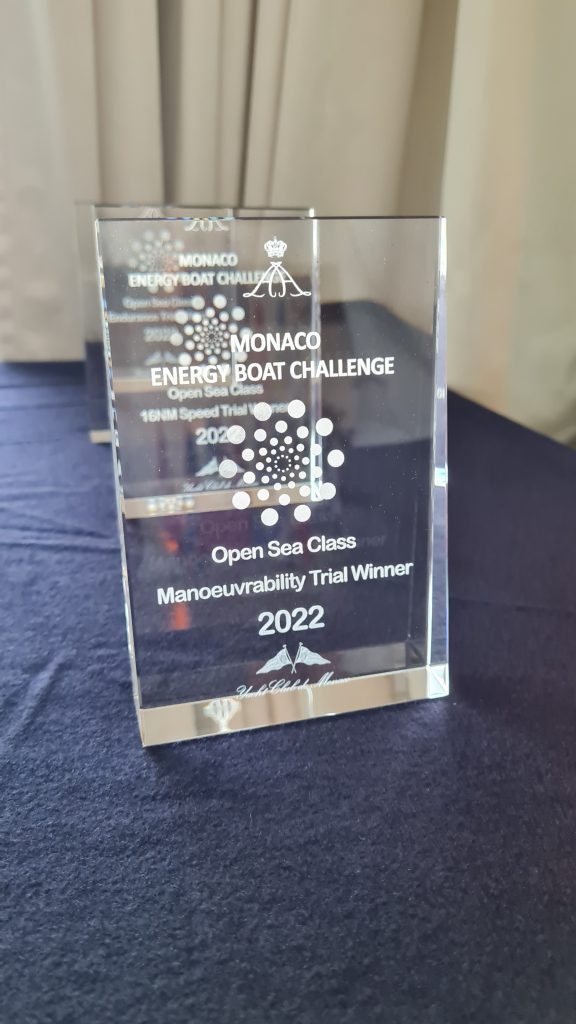 a new victory in e'dyn collection
The Honorary Slovenian Consul Marc Lecourt also visited the Monaco Open Sea Challenge. The Slovenian consulate in Monaco has been operating since 2000. In 2009, the Government of the Republic of Slovenia promoted Lecourt to honorary consul general. The consul also welcomed the e'dyn team and they took some memory photos.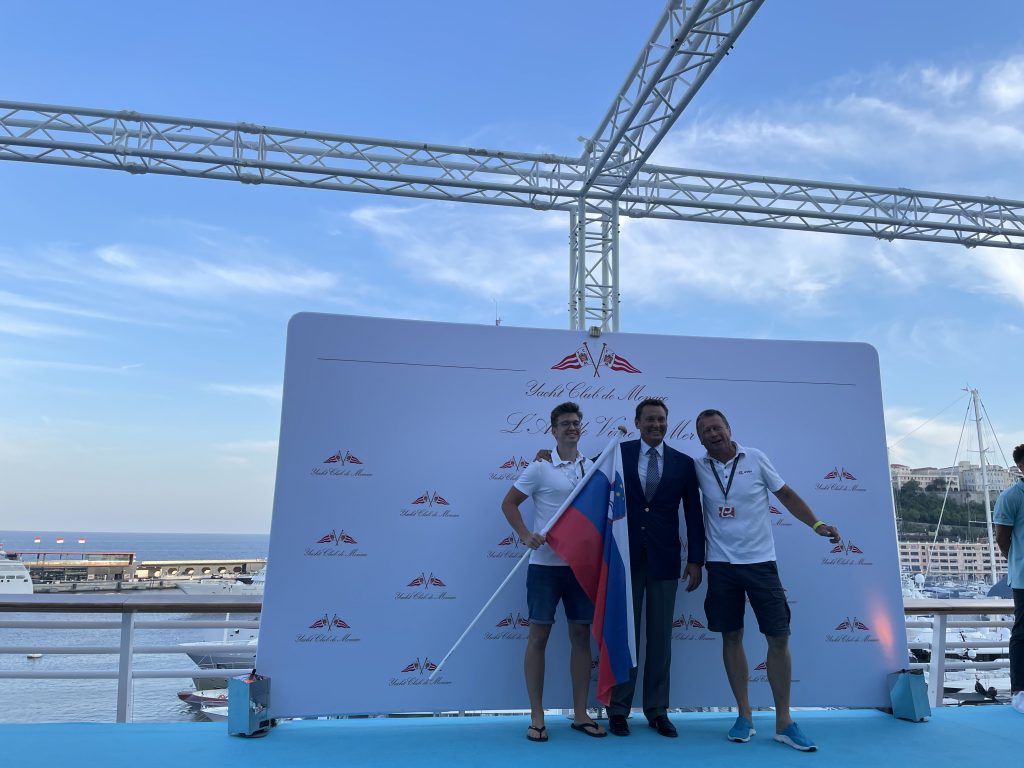 e'dyn team and honorary general consul Marc Lecourt
Of course, we mustn't forget another high-profile visit – a bit jokingly, we could say that it might be quite traditional – once again the e'dyn team was greeted by Prince Albert II. What exactly they were talking about with Igor from the e'dyn team, Igor still didn't trust. Given the relaxed nature of the chat, Prince Albert II clearly remembers last year's visit as well. He was also happy to pose for the camera this time.
Congratulations to the e'dyn team for another great achievement!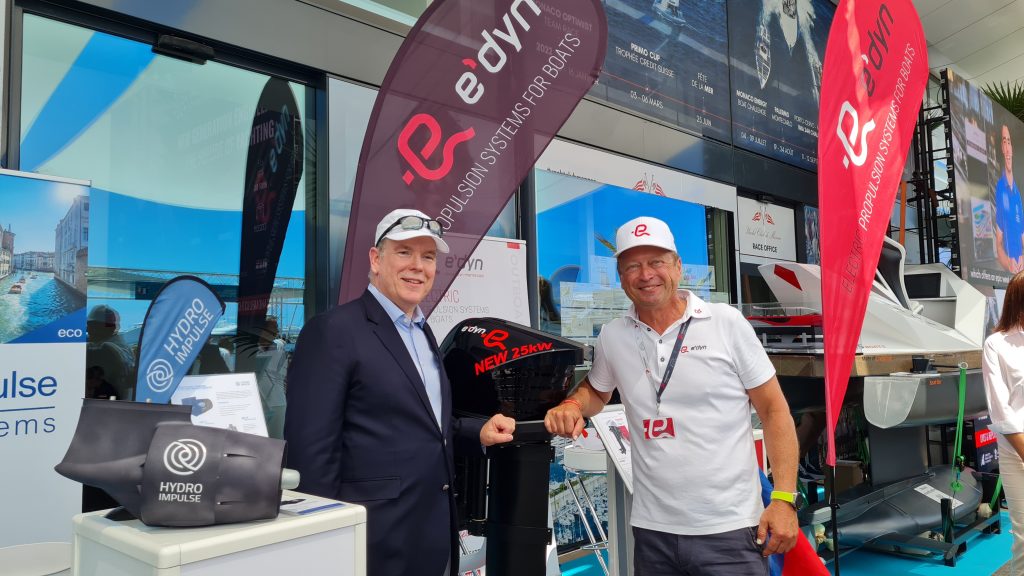 Prince Albert II. and Igor 
If you missed Monaco, see you in Cannes in September!
Don't miss the upcoming nautical events, in which e'dyn also confirmed its participation.
Cannes Yachting Festival
6th September – 11th September 2022
Genoa Boat Show
22th September – 27th September 2022
Metstrade Amsterdam
15th November – 17th November 2022
Book your visit to our pavilion, where we will be happy to present our top electric motors and boats.
Also book for a test voyage. It's the best way to experience and feel the future of sailing.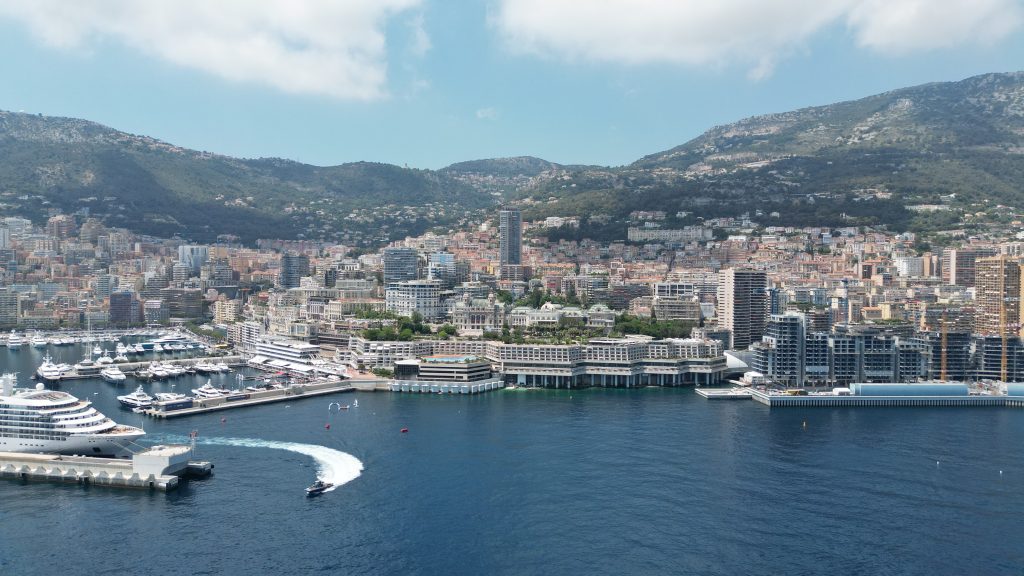 "The luxury of being able to sail completely silent is the most beautiful experience of sailing with an electric boat."
See us in Cannes?
Reservations on e-mail: igor.pecnik@edyn-marine.com