The RAI Amsterdam Convention Center re-opened the 34th METSTRADE show in its full glory from 15th -17th November, bringing together thousands of maritime industry professionals for three days of important networking, research and sales discussions. Over 1,400 exhibitors from 50 countries showcased the latest revolutionary innovations offered by the marine leisure industry in 10 halls. An extensive program with a focus on the environment, technology, development and diversity offered visitors much more than just a tour of the exhibition hall. METSTRADE 2022 was comprehensively reported on by 160 attending members of the marine press, alongside the show's multi-channel media team.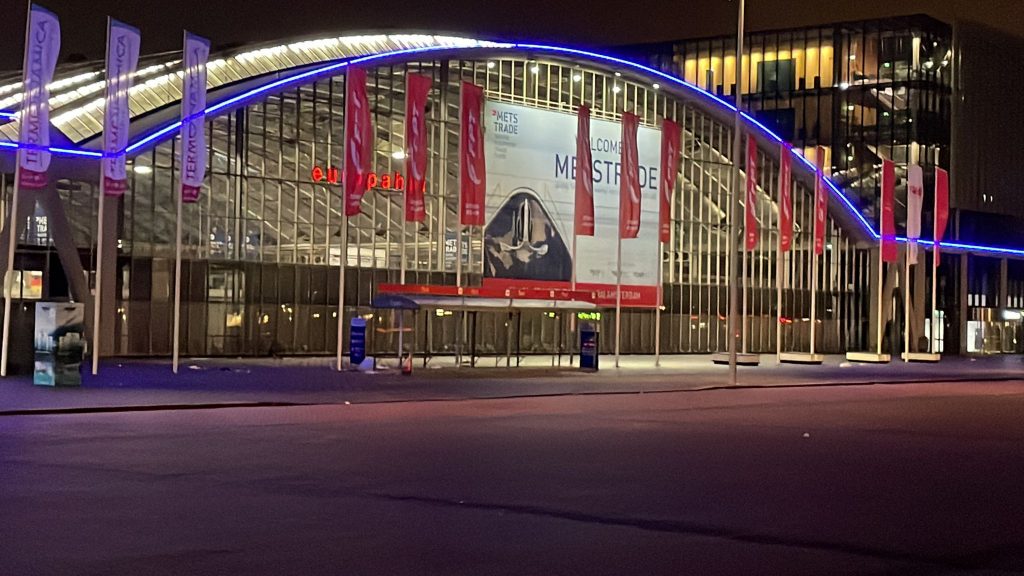 METSTRADE fair Amsterdam
Recognising the extreme importance of industry recruitment and retention among younger people, 23% of all visiting professionals were in the 18-35 age bracket. Their presence was nurtured and supported through METSTRADE's Young Professionals Club with its dedicated lounge, industry meet and greet sessions and show tours. Career development was also celebrated by many other initiatives across the show including the sponsored visits by Australian International Marine Export Group (AIMEX) of their 2021 and 2022 Apprentices of the Year and the naming of two very bright Rising Stars from the USA and UK in the IBI-METSTRADE Boat Builder Awards, organised in association with Raymarine.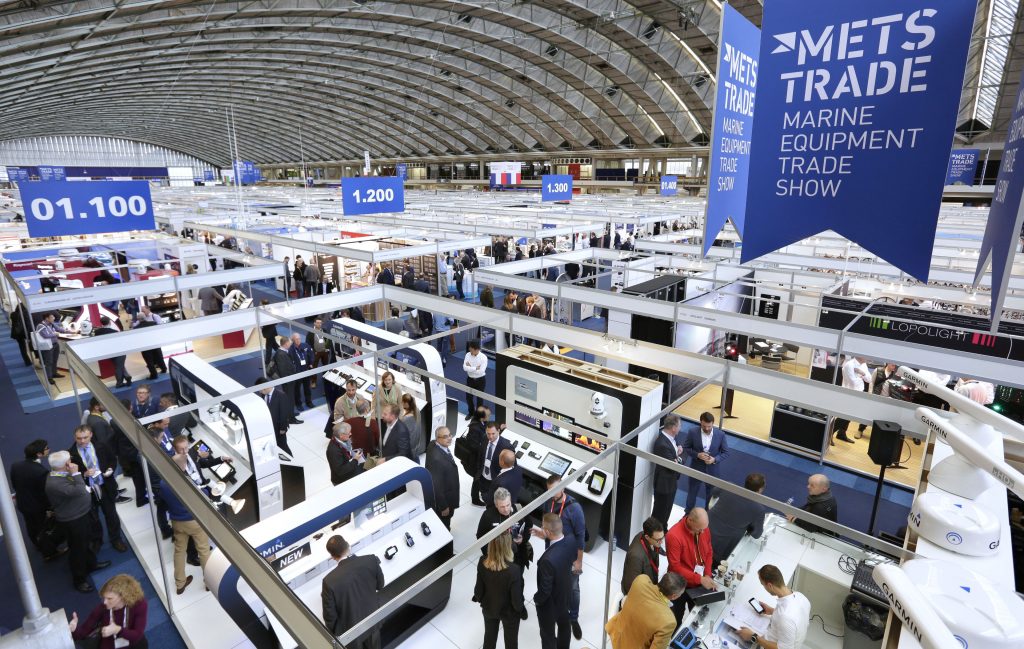 The organizers recorded 28.480 visitors
 In a glittering night under the stars at Amsterdam's National Maritime Museum, the breadth of the industry's talent was highlighted including a Lifetime Achievement Award for the founder and CEO of Taiwanese motor yacht manufacturer Horizon Yachts, John Lu, and joint Designer of the Year awards for Tony Castro Yacht Design and Sea Ray's first ever female design team – Carrie Fodor and Kristin McGinnis.
METSTRADE also saw the welcome full return of associated programmes from partners including the 30th anniversary of the SuperYacht Forum Live, International HISWA Symposium, HISWA Marina Symposium and NMEA. Their conferences featured strong themes around using new technology to appeal to latest generation audiences and creating a more sustainable future.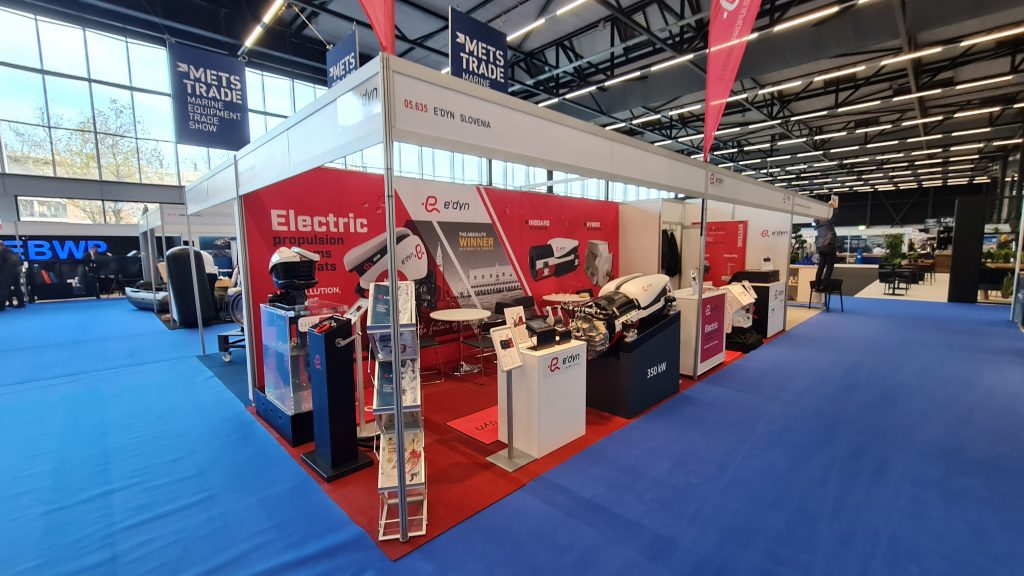 e'dyn exhibition space
This time e'dyn presented with a new outboard motor, which will be available next year in versions with 11, 15 and 25 kW.
In addition, the program of internal engines from 10 to 1500 kW has been expanded, where e'dyn pays the most attention to hybrid drives.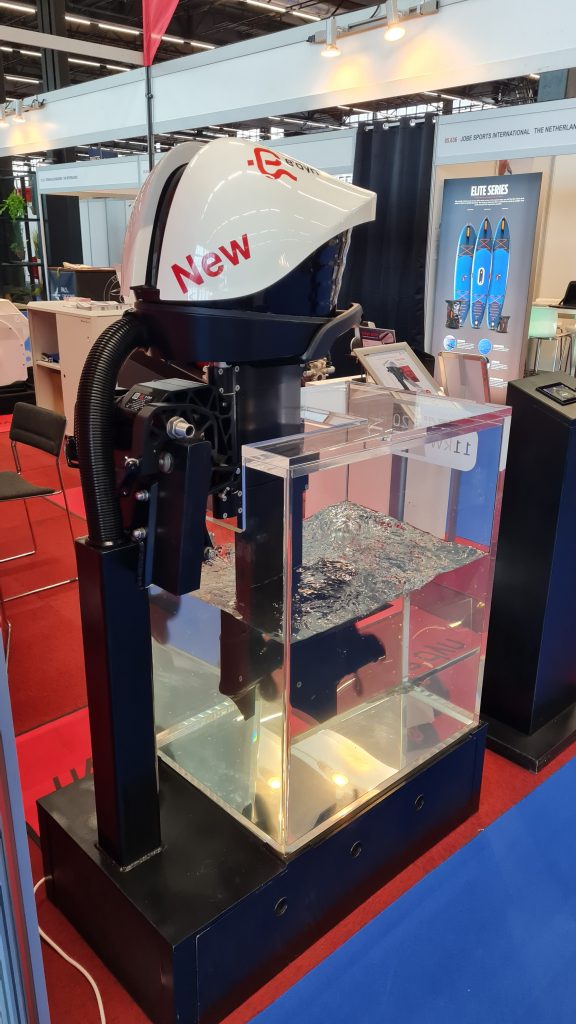 e'dyn outboard motor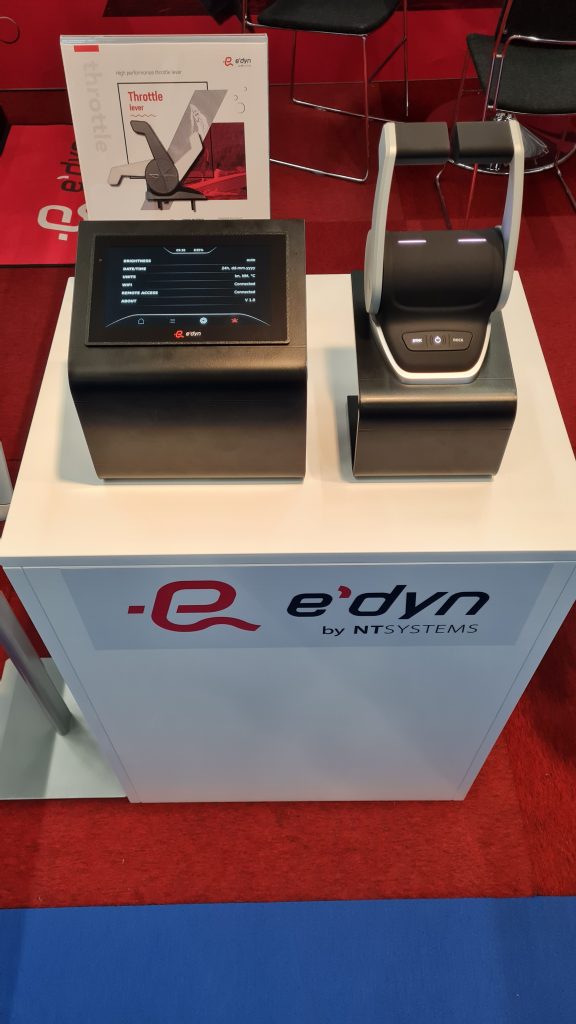 e'dyn display and handle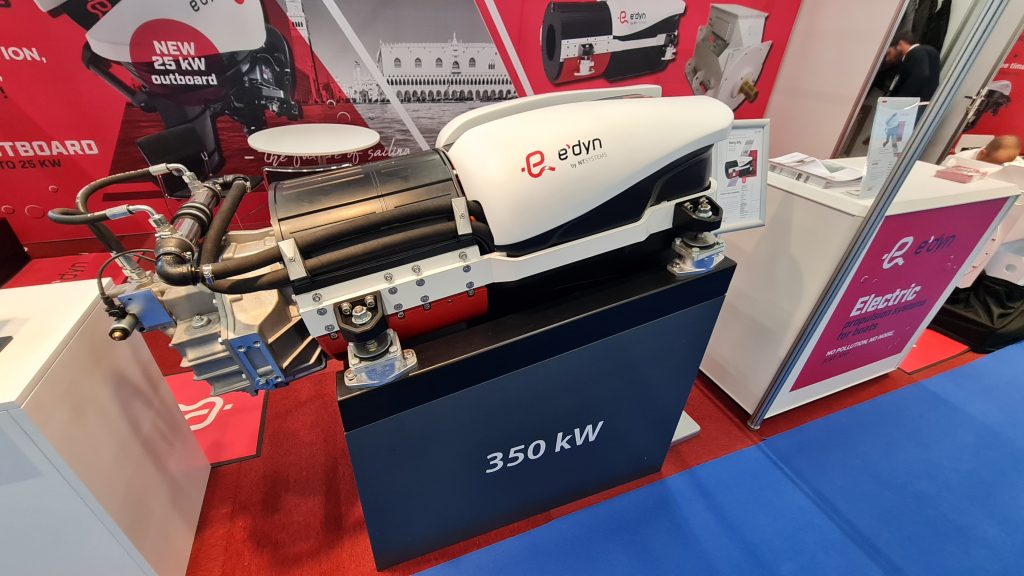 completely new e'dyn inboard motor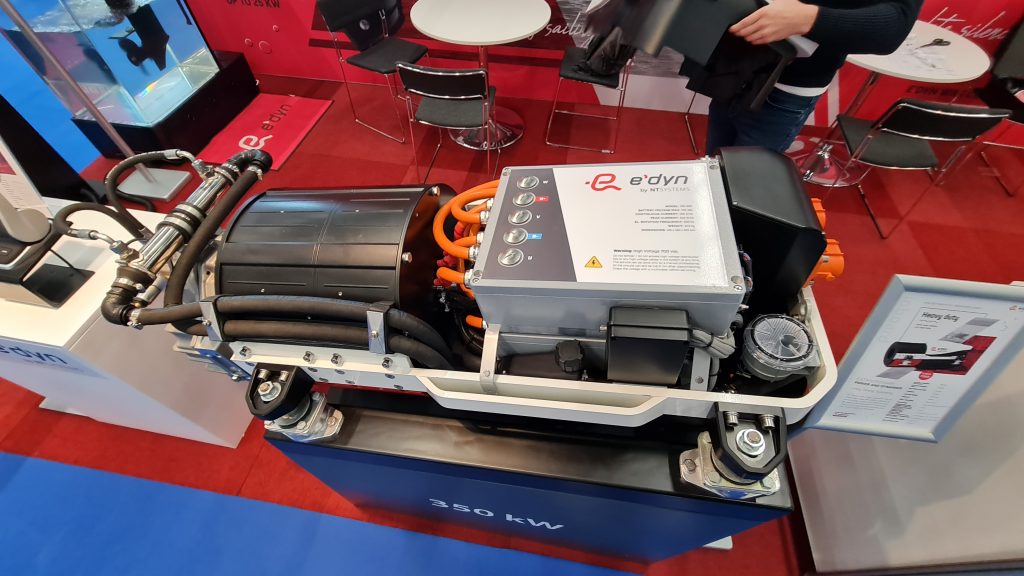 e'dyn aesthetics is hidden under the cover also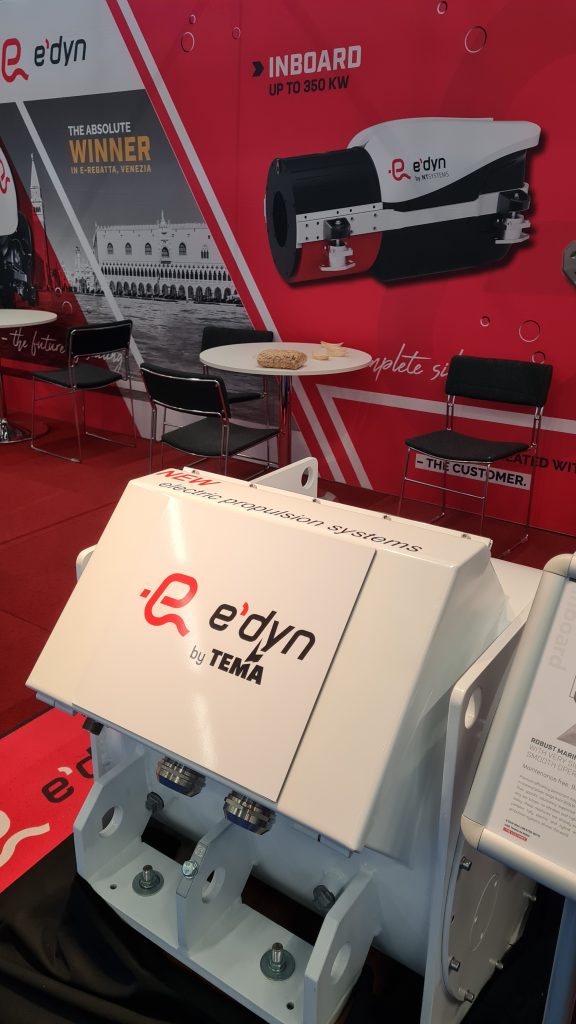 e'dyn inboard motor in cooperation with TEMA.
The team was also honored with the important visit of the Slovenian ambassador from The Hague, Jožef Drofenik.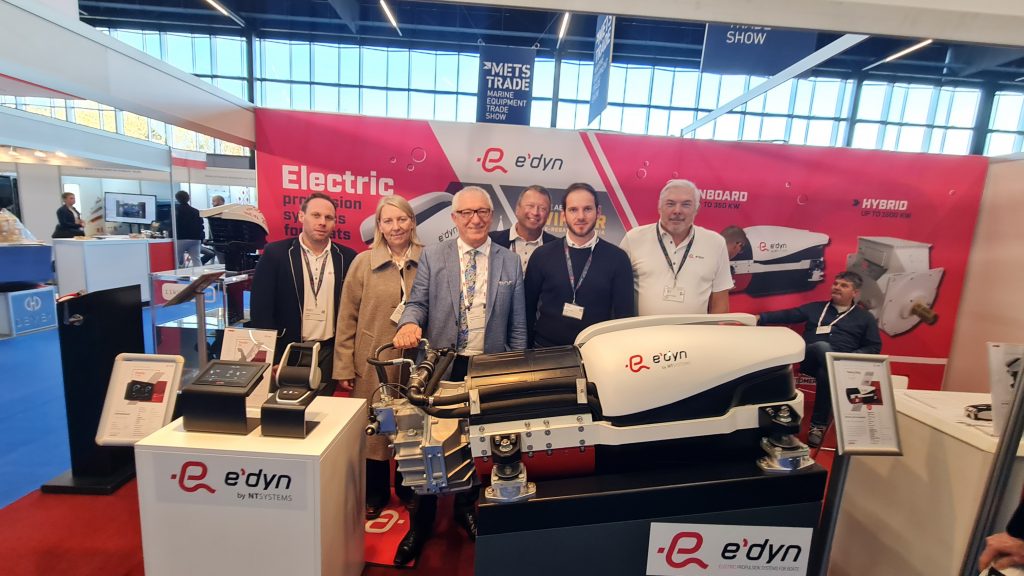 e'dyn team with the ambasador Jožef Drofenik
The entire event and atmosphere at the fair was fantastic. E'dyn once again blazed a new trail in his recognition and anchored himself deeper on the nautical map.
If you missed our previous fair presentations…
Book your visit in our company, where we will be happy to present our top electric motors and boats.
Also book for a test voyage. It's the best way to experience and feel the future of sailing.
"The luxury of being able to sail completely silent is the most beautiful experience of sailing with an electric boat."
Reservations on e-mail: igor.pecnik@edyn-marine.com