After five intense days between yachts and superyachts, sailboats, sustainable solutions and interesting cutting-edge events for all age groups, Salone Nautico Venezia has concluded its fourth edition.
The fair was visited by over 30,000 nautical enthusiasts from more than 30 different countries, thus putting Venice high on the nautical event map. More than 220 exhibitors participated in the fair. More than 300 vessels were presented, including the Slovenian Elan, Seaway and Podkrižnik with e'dyn presenting several vessels and a charging station.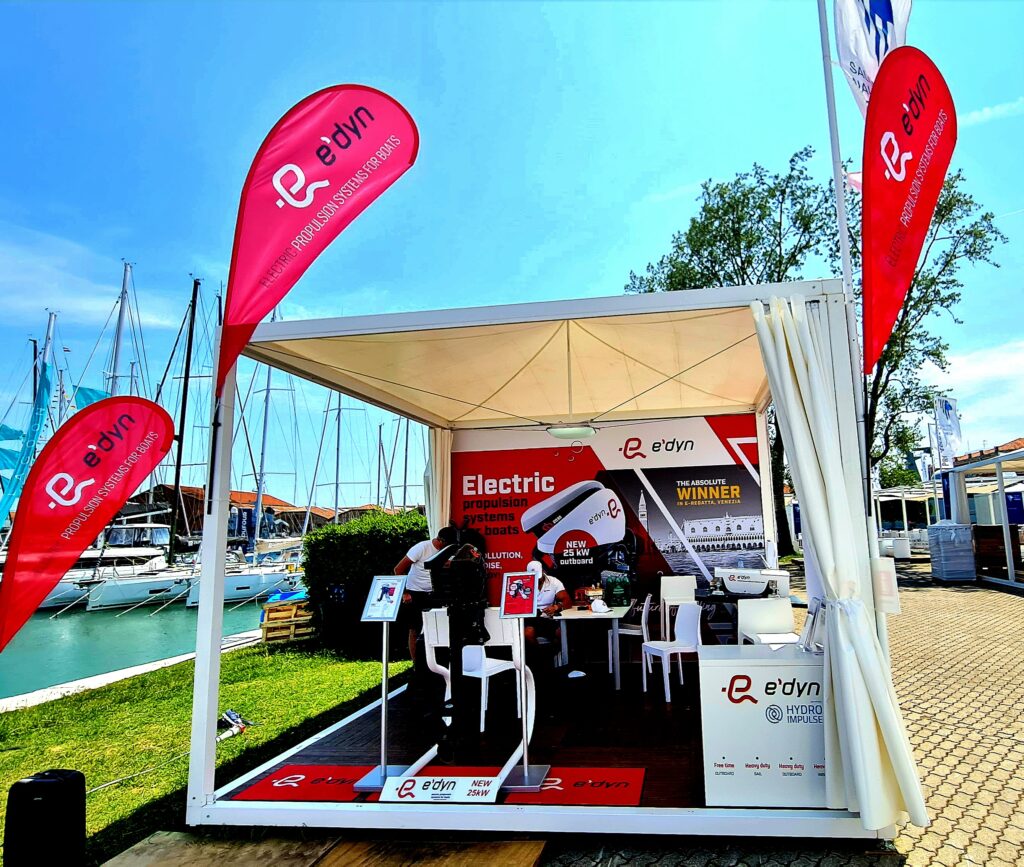 e'dyn exhibition space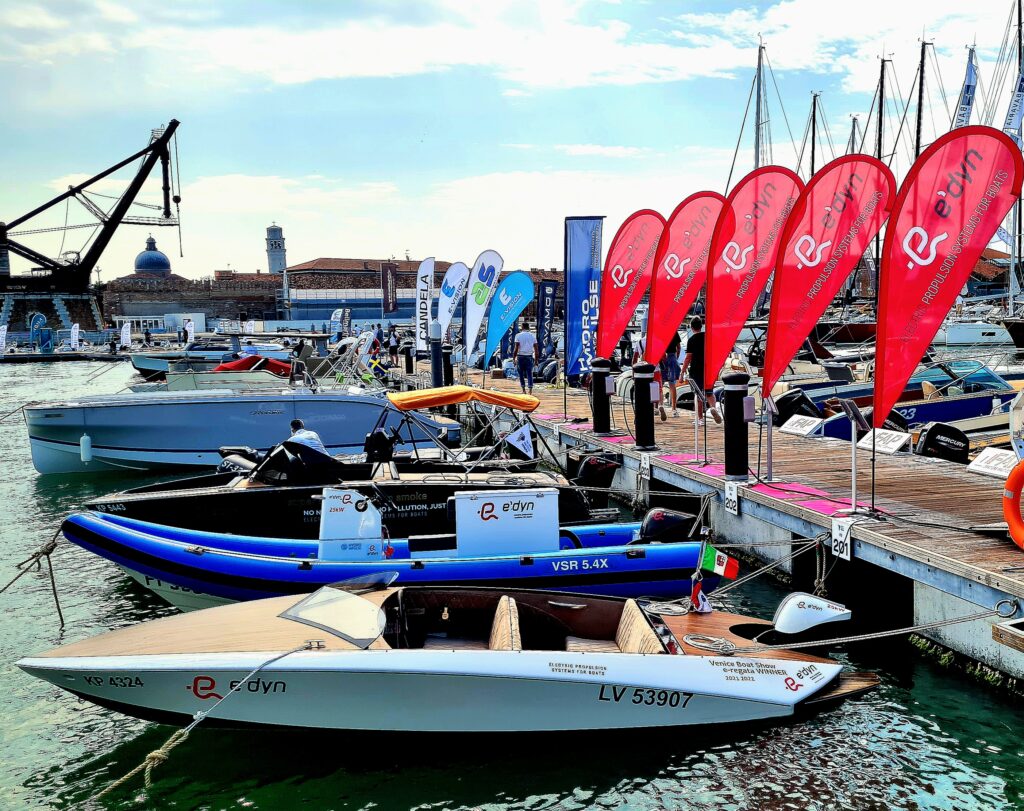 e'dyn boats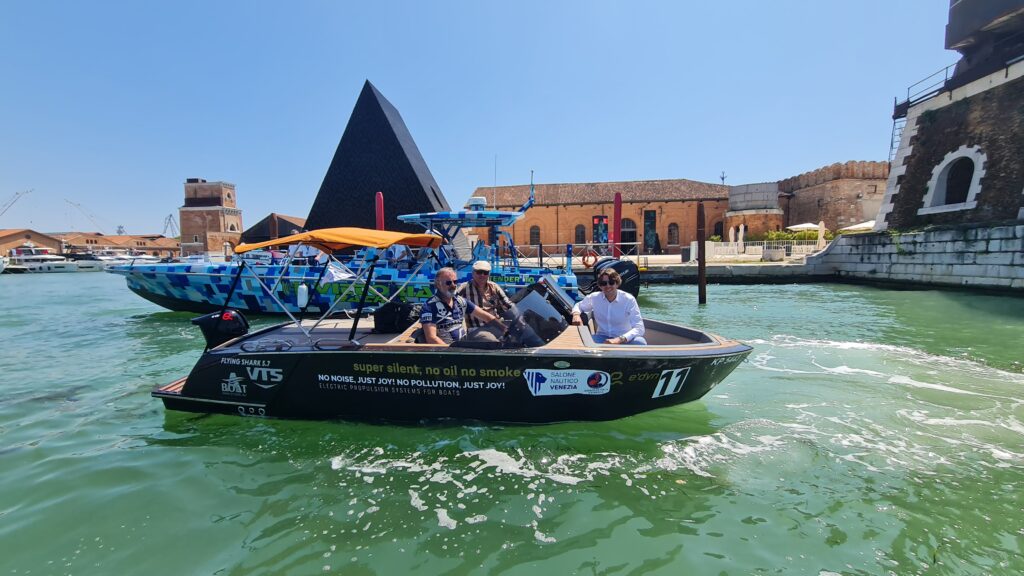 Sailing in silence is truly priceless
Venice Arsenal – what was once known as the world's largest shipyard in the past days hosted the giants of international yachting, true gems that, year after year, break records in terms of size, luxury, design, technology and comfort. The Venice Boat Show, with ever-increasing numbers both quantitatively and qualitatively, has thus become a reference point for boating enthusiasts, renewing the deep bond between Venice and the sea.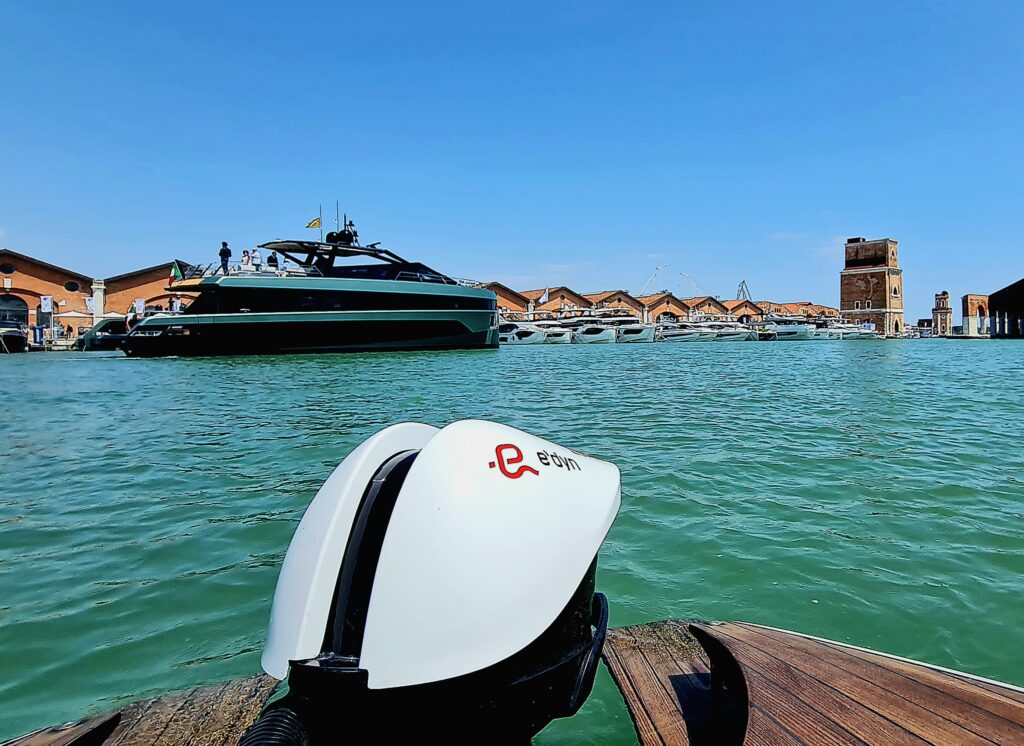 Venice Arsenal
E'dyn celebrated victory for the third time!
At the nautical event Salone Nautico Venezia, the third consecutive Venetian e-regatta took place a few days ago.
Venice Arsenal once again offered a real spectacle for all nautical enthusiasts.
In 2021, e'dyn took part in the e-regatta for the first time, as a debutant, and even then swept away the competition.
He also earned the championship title last year in 2022. This victory was a really great motivator for improvements in development, as this year e'dyn introduced even more improved versions of outboard and inboard engines.
This year, the Kaiser designer vessel was powered by a new, more powerful engine, the e'dyn 2025, which can develop up to 25 kW of nominal power.
At this year's third, now traditional Venice e-regatta, competitors competed in various categories: slalom, speed driving and improvised driving accompanied by music. E'dyn once again proved to be the absolute winner and gave the team their third consecutive victory overall.
The excitement over the winning results in the e'dyn team is of course immense.
The director of the company, Iztok Podkrižnik, also commented on the achievements: "Such a victory is proof that we are on the right track and is the best motivator for improvements in development and also for the future."
Congratulations on another outstanding achievement to the e'dyn team!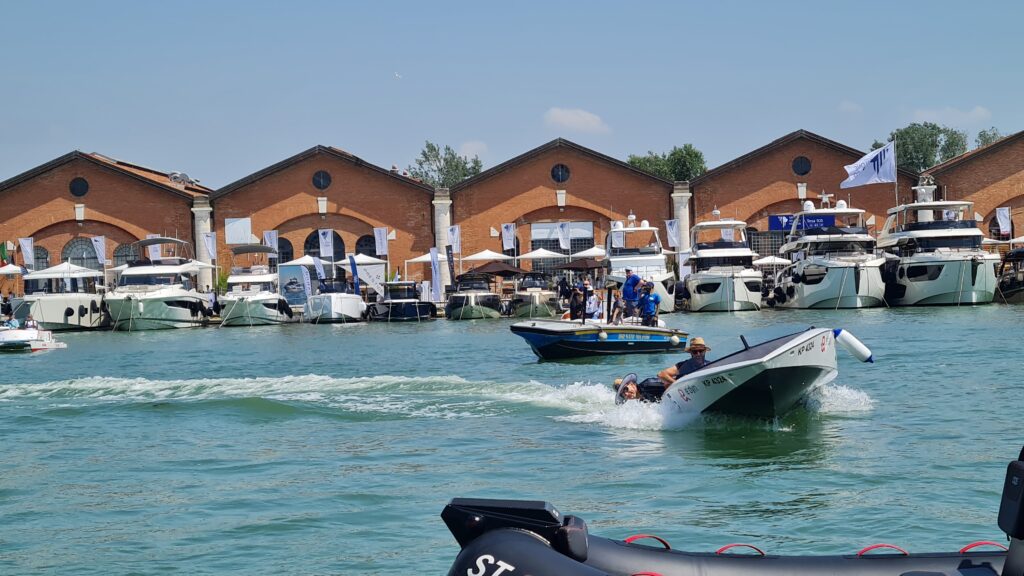 highlights from the e-regatta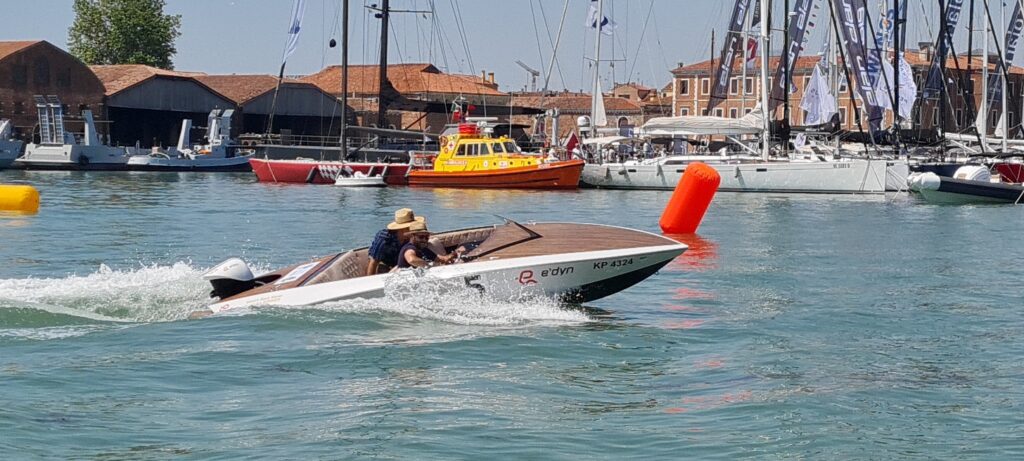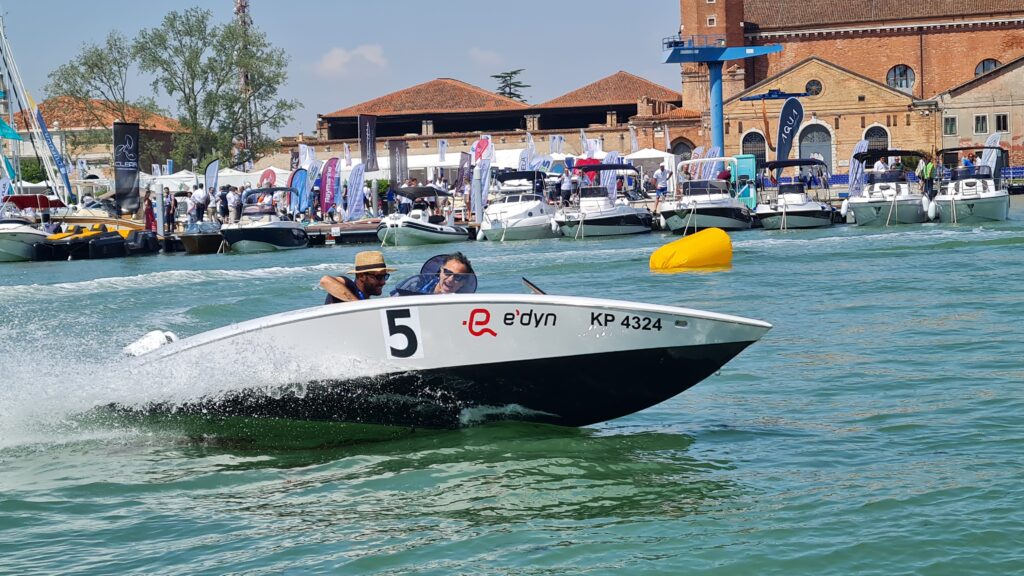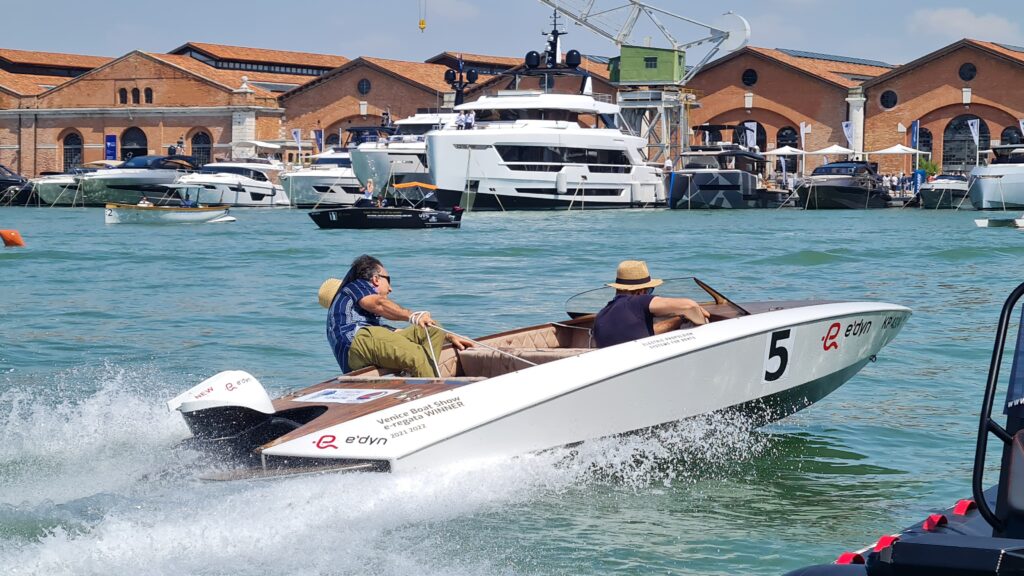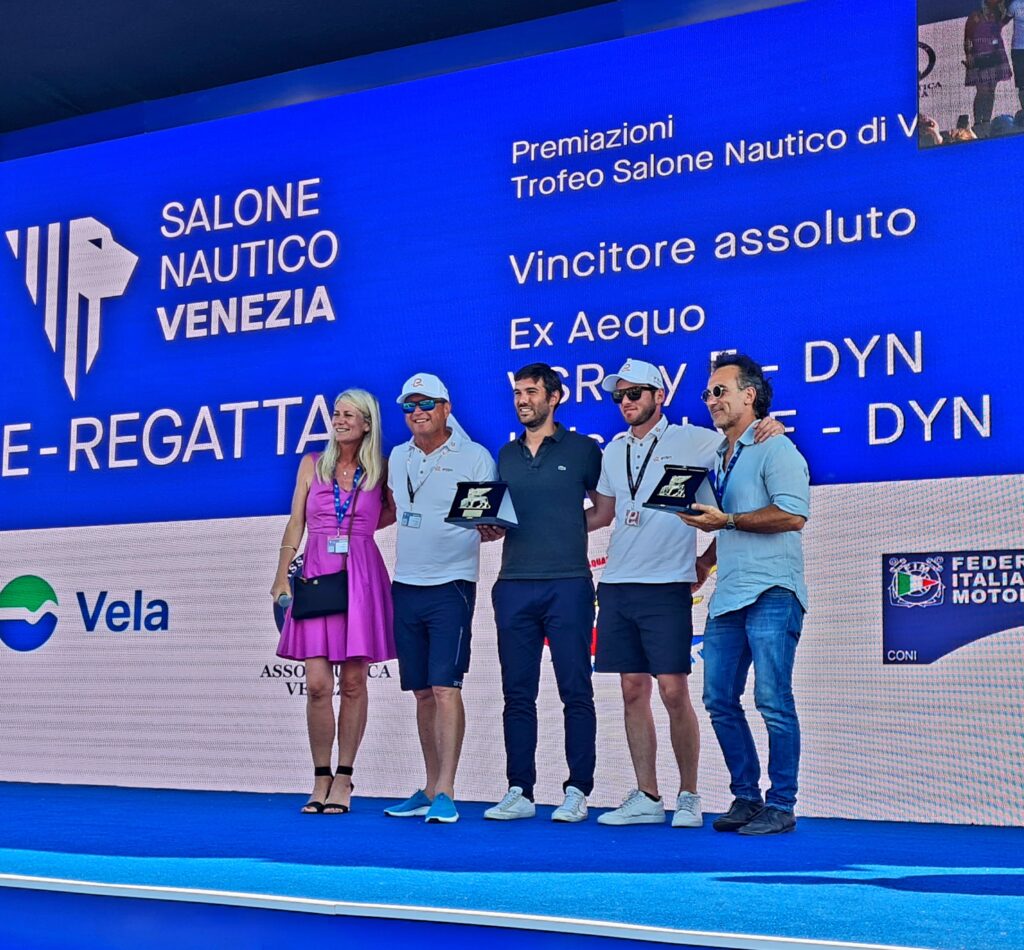 Awarding of prizes to the winners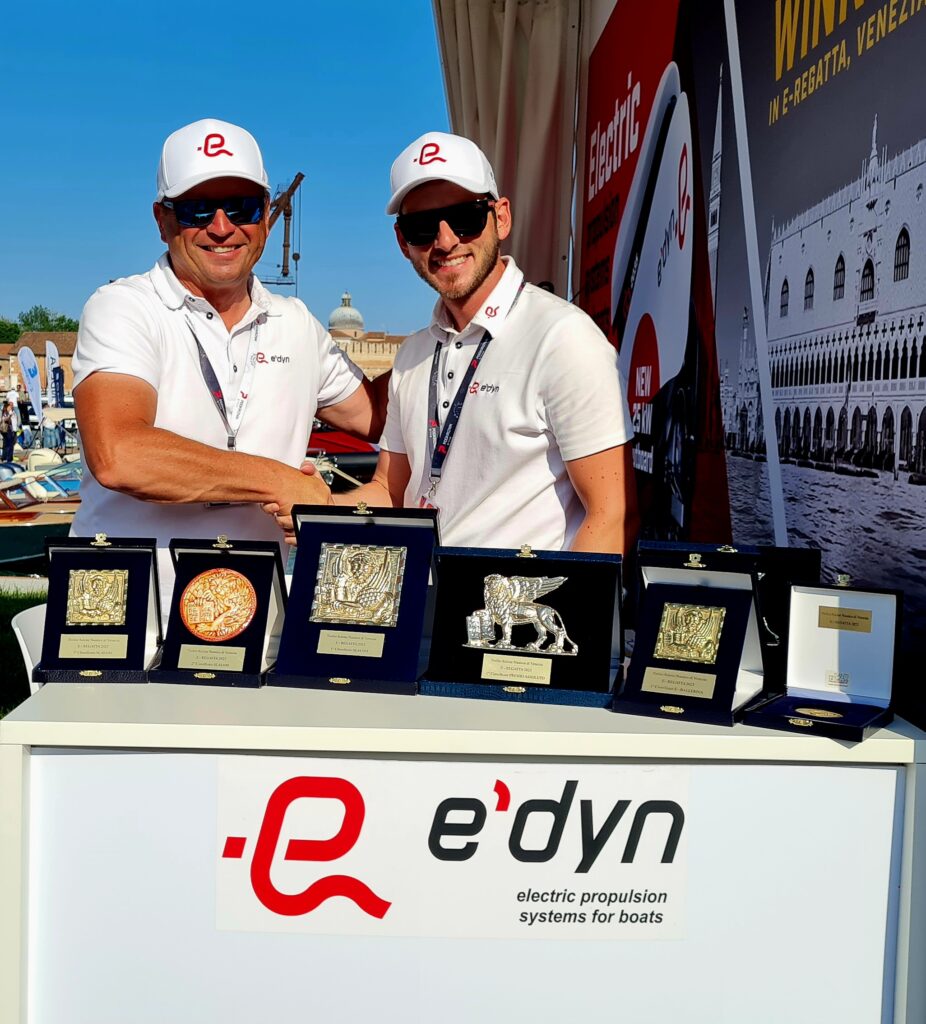 e'dyn can already boast of a considerable collection of victories
If you missed our previous fair presentations…
Book your visit in our company, where we will be happy to present our top electric motors and boats.
Also book for a test voyage. It's the best way to experience and feel the future of sailing.
*   *   *
"The luxury of being able to sail completely silent is the most beautiful experience of sailing with an electric boat."
*   *   *
Do not miss
nautical events in 2023,
which also features e'dyn!
JUNE 2023
---
Electric & Hybrid Marine Amsterdam
20th June – 22nd June
JULY 2023
---
Monaco Energy Boat Challenge
5th July – 8th July
SEPTEMBER 2023
---
Cannes Yachting Festival
12th September – 17th September
Salone Nautico Genova
21st September – 26th September
Interboot Friedrichshafen
29th September – 1st Oktober
OCTOBER 2023
---
Interboot Friedrichshafen
29th September – 1st Oktober
NOVEMBER 2023
---
Mets Amsterdam
15th November – 17th November
See us in Amsterdam?
Reservations on e-mail: igor.pecnik@edyn-marine.com