"Build knowledge for the future" is the slogan of our company, which also paves the way for younger generations. Our vision is that with a high level of organization, motivation, passion and experience we can achieve high goals. We also recognized these qualities in the enthusiastic student of the Secondary and Vocational Technical School Murska Sobota, Anej Serec, who sent us a request to participate in his project – design and manufacture of electric catamaran.
"Since I was a child, I have been fascinated by ships and all kinds of vessels. As a child, at the beginning of primary school I set out to build a ship. I was also supported at home, but as a child I did not have enough experience, financial resources and the necessary knowledge to build a real ship. At the age of seven, I started modeling, first in the field of aircraft models, then in rockets and then in ships and drones. Now my greatest passion is airplanes and ships. Throughout my life, I have given a lot of experience, new ideas, a 3D presentation of models and space, and the impetus to embark on a live project.As a child, I designed quite a few plans and models of radio-controlled aircraft from half a meter to three meters in size. Some of them flew really great, but each one gave me invaluable knowledge and experience.
At the age of fifteen, I got a great desire to have my own boat, but this time the right one, not just a model. Since nautical sailing is expensive and I did not have the financial means to buy a ship, so I decided to build it by myself. I set about designing and designing a simple plan that only I could understand at the time. After a week of thinking and finding construction solutions, I made a plan. Then I tidied up and emptied our home garage and started building a catamaran. "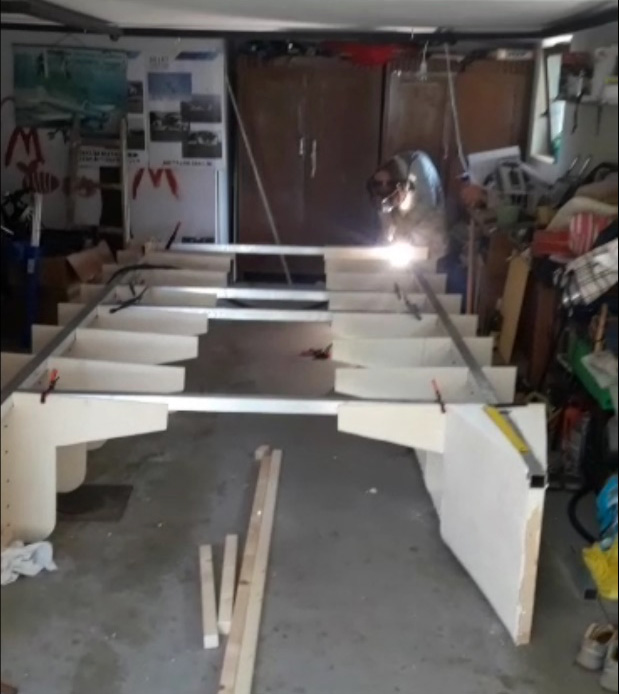 Here my friend and I started welding. I only attended the first year of high school and I was not skilled enough in welding, so my friend Zlatko helped me to weld harder welds, and he taught me how to weld. I started connecting the floats here with an aluminium construction. I placed the floats apart at the exact distance and then I installed aluminium tubes (50x50x3) on the floats, I helped myself with screw screws. Once the pipes were exactly installed, we pinned them while they were attached to the wooden structure itself.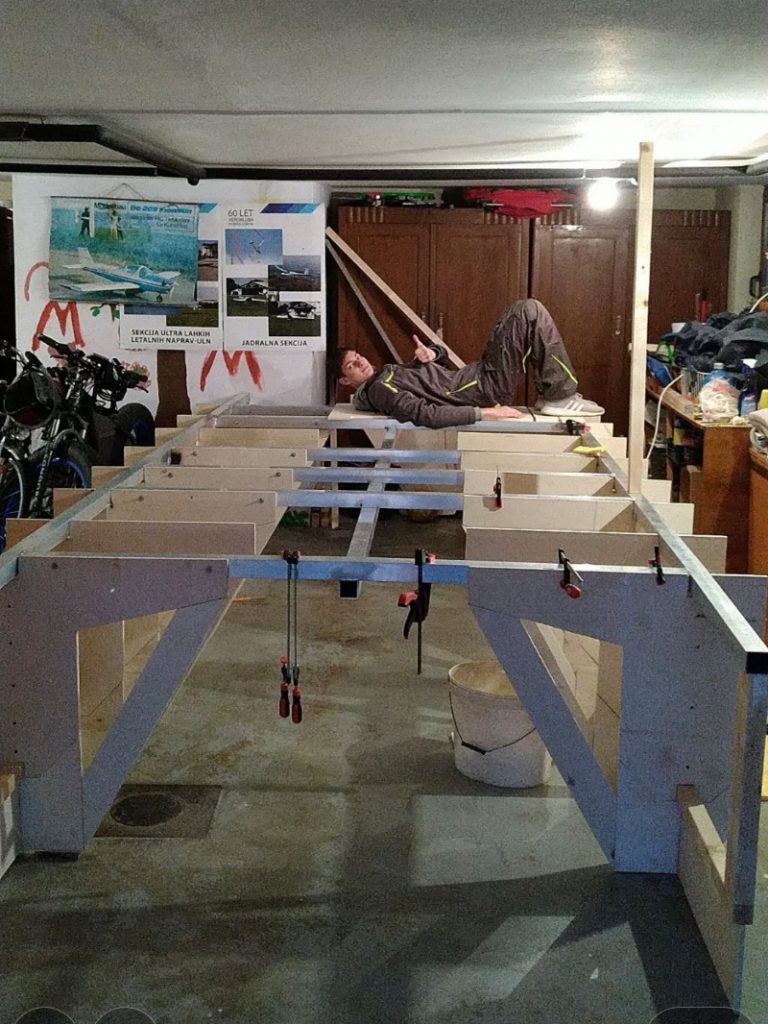 Each vertical aluminium tube is screwed with two screw connections to the rib and the wooden structure of the catamaran.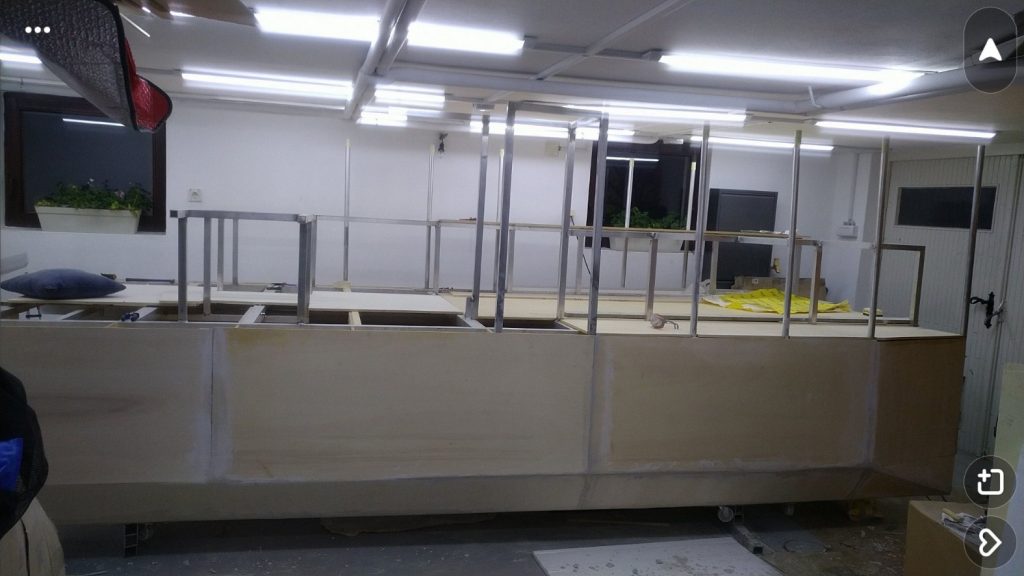 We have completed an important phase of float sealing. Once we had installed all the sides for the floats they needed to be nailed down. I was especially careful at the junctions of the surfaces, extra care was needed there when plastering as there should be no holes. We puttyed it with fine Nivedur putty, which mixes with water and dries fairly quickly. Once everything was trimmed we started sanding. It was necessary to sand the entire floats, which is about 25m2 of which there are also quite a few corners where we had to sand a nice passage. This work was inconvenient because the fine putty is very smoky when sanding, we had protective equipment and masks, which also did not like to keep all the dust. We sanded with a vibrating circular sander, and the angle transitions were mostly hand-held with a sanding sponge. In this procedure, we replaced 45 sandpaper on the sander. Now the boat was smooth and ready for fiberglass lamination.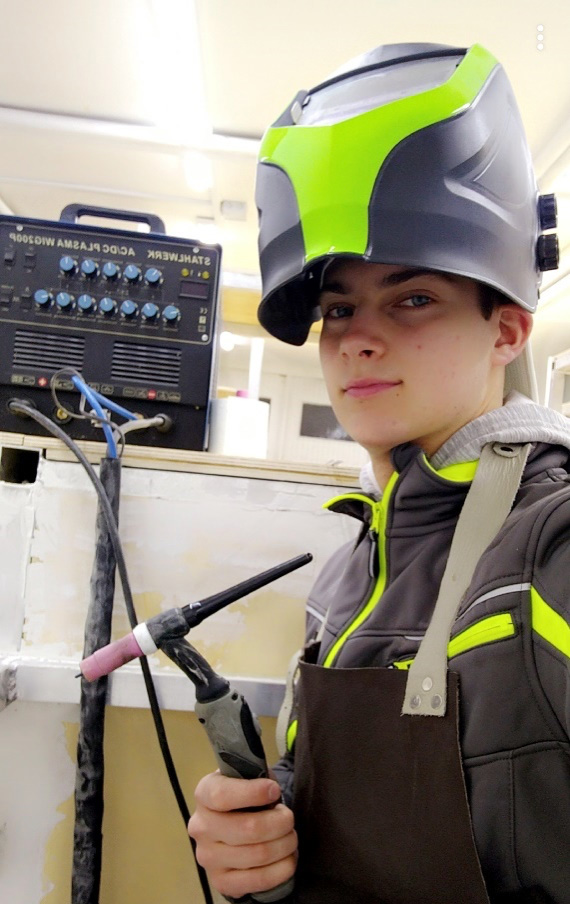 I welded the last pieces of construction for the seats and the back step.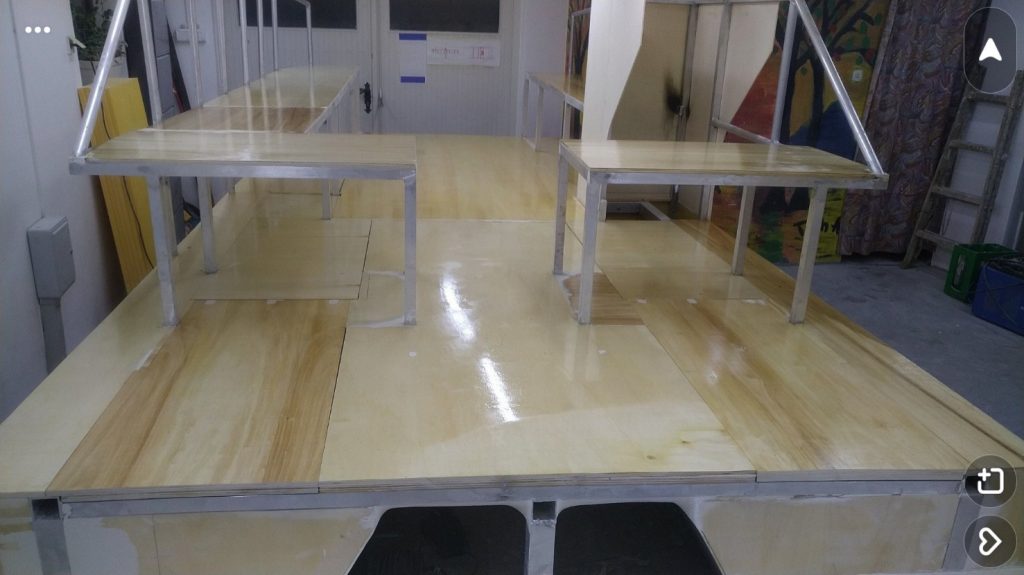 The last part of the catamaran is shown. Here the catamaran was in line for fiberglass lamination.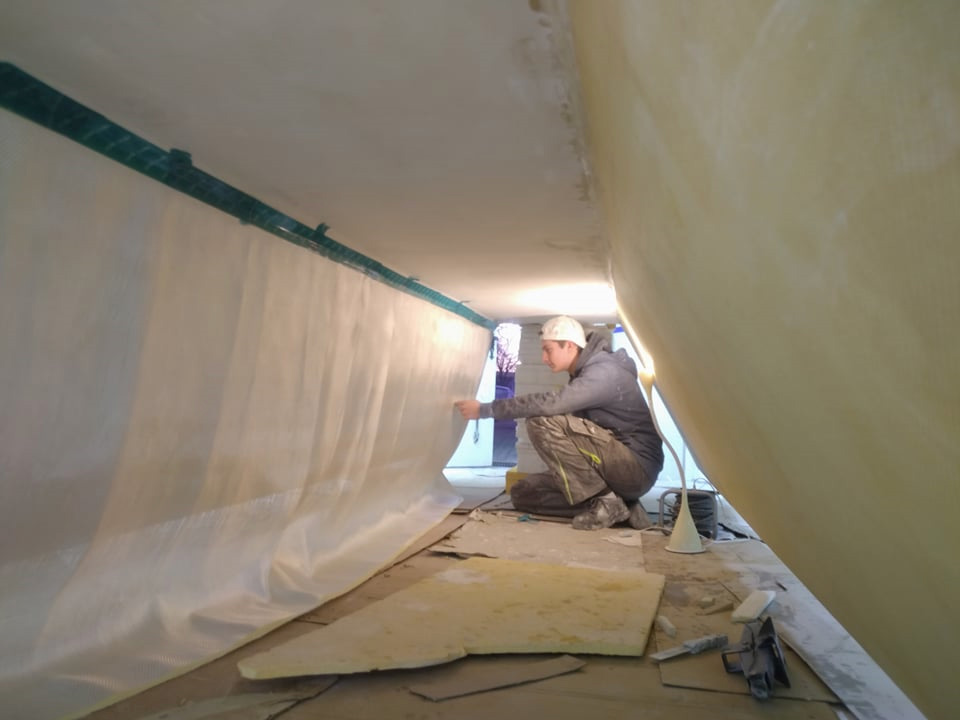 The entire floats and the middle bottom connecting the boat were covered with fiberglass in two layers. The bottom of the floats, however, is covered in three layers. We needed 200 hours of work for the whole lamination process. The work was physically strenuous as resin application was required in awkward positions, including lying down. During the lamination, the boat was raised by 30cm so that the fibers could also be applied to the bottom of the floats.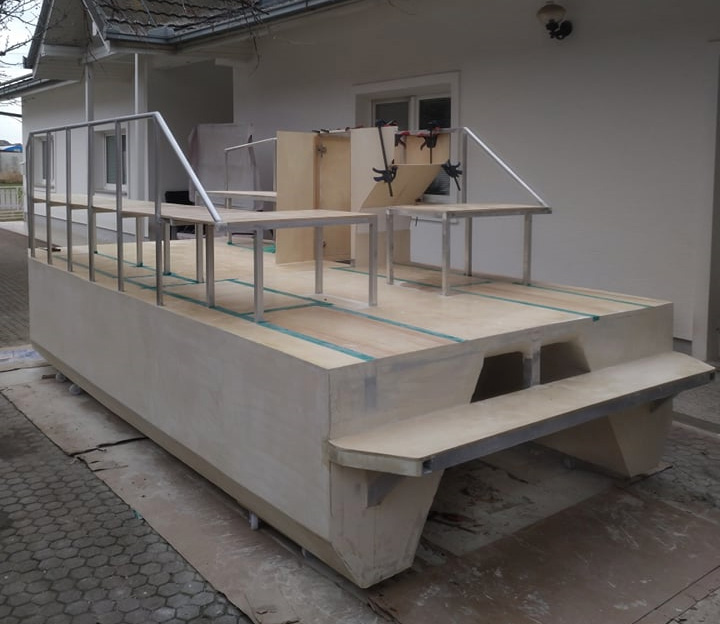 Boat in current condition. It is ready for painting and installation of a soft coating of imitation ship floor on the floor. I will also upholster the chairs.
"At first I wanted the catamaran to have sails and be so environmentally friendly. Then, due to the desired characteristics of the vessel, I decided not to have a sailboat but to have an outboard marine engine installed in the rear. But because I still wanted to keep my goal of will be eco-friendly, I decided to design a catamaran suitable for electric propulsion.I designed the floats so that there is enough space in them for relatively large batteries, which are located in the lower deck so that they can be removed in case of charging. As a result, catamaran floors have several drawers that allow access to the interior of the lower deck, batteries and other items that can be stored inside in spacious floats. As electric nautical propulsion is still under development, there are few suppliers on the market that manufacture suitable outboard nautical electric motors, so I encountered the following problem. In the case of electric vehicles, the problem is generally the lack of distance or range, but in the case of boats this is even more pronounced. So I spent a long time looking for suitable batteries and an electric motor that would give the boat the right speed and range. The biggest advantages of electric drive are quiet use, as the motor itself is not heard at all, only the quiet murmur of water is heard. The running of the engine is also very smooth and no vibrations are noticeable as with internal combustion engines.
After the research, I decided to install e'dyn electric 0610 engine on the catamaran. This brand was founded by the Slovenian company Podkrižnik, which has been creating changes in the production of propulsion technology in various industries and sectors for more than three decades. Under the navigation of the company and its global network of development partners and suppliers, e'dyn is fulfilling the wishes of all who are guided by the heart along the waterway. e'dyn stands for Electric Dynamic Nautics and creates innovative electric propulsion technology solutions in the nautical field. Through constant analysis and innovation, it provides the highest quality complete solutions in the field of drive technology and produces products that are characterised by reliability, quality, strength, durability and superior appearance.
The engine has 6.5 kilowatts of power which is equivalent to a 12 horsepower outboard internal combustion engine. Such engine power is sufficient for my needs, which I intend to achieve. I want the cruising speed of the catamaran to be somewhere around 5 knots, I will be able to achieve that with this engine as well. The e'dyn electric outboard engine is also designed to have high torque and thrust at lower speeds, which is great for my needs as the boat will have low cruising speed. In terms of speed, my only goal is that if there is a strong wind on the lake, I want the boat to be able to move at a speed of a few knots head-on to the wind without any problems, and I will be able to achieve that with this engine. "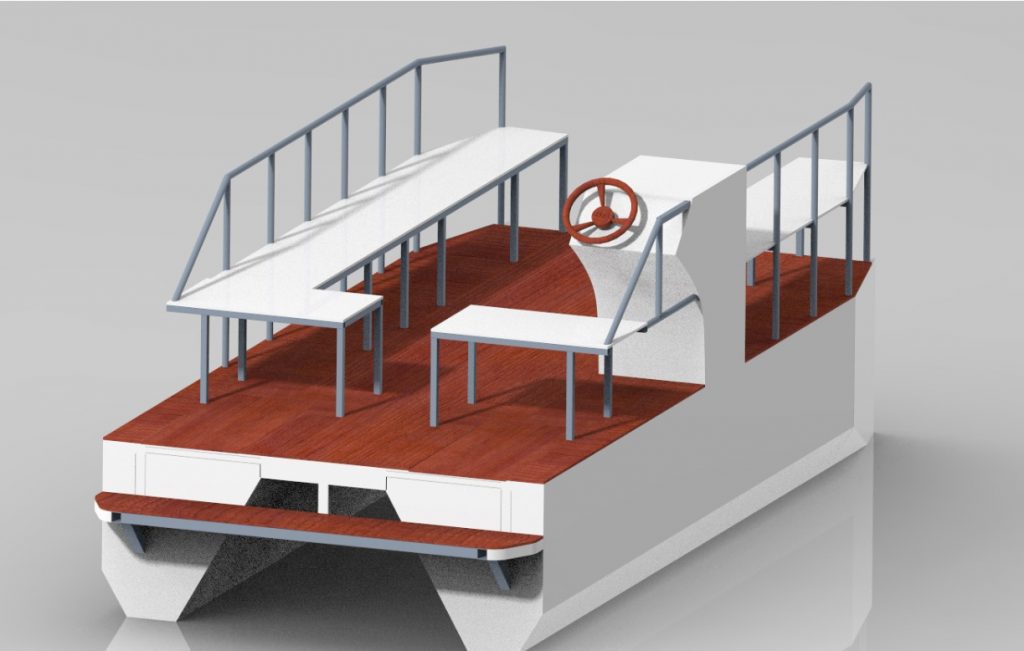 This is how Anej justified his choice of the ideal e'dyn engine. We are extremely happy that the younger generations are also striving for an ecological orientation in the field of nautical, and of course we are proud to be a part of this impressive story. We wish Anej a successful first voyage and many more original projects in the future.
"The luxury of being able to sail completely silent is the most beautiful experience of sailing with an electric boat."